Hi, there!  Glad you stopped by!
In case you don't know who I am, I'm Debi Taylor-Hough — author, speaker, editor, and (most importantly!) mom to three wonderful people.
And I've been doing this whole frugal/simple thing for a very long time. ♥
Over two decades ago, our family bucked the tide of late-20th Century American life. We became a one income family in a two income world. We set out on a journey toward frugal living and simplicity that quickly became an education in itself—and a rewarding, joy-filled lifestyle.
Through hard work and determination, our family:
paid off outstanding consumer debt and medical bills
radically reduced spending in every area of our lives
and most importantly, lived to tell about it!
During our family's lean times, we learned creative ways to stretch our limited finances while not sacrificing our quality of life.
---
BOOKS
I share my knowledge of cooking for the freezer in my first book, Frozen Assets: Cook for a Day, Eat for a Month. I've taught freezer-meal techniques to thousands of people through in-person workshops, discussion groups, radio programs, television spots, and a variety of on-line resources.
In my second book, A Simple Choice: A Practical Guide for Saving Your Time, Money and Sanity, I share some of what I've learned firsthand about raising a family and managing a household with limited time and money. And staying sane in the process!
I have several other books on the market now including: Frugal Living for Dummies® and Frozen Assets Lite & Easy.
Several more books are in the works, so check back for updates!
---
WORKSHOPS
I regularly teach classes and workshops through women's groups, churches, conferences, and community education programs on the topics of:
living within your means
simple living
cooking for the freezer
identifying personal priorities
simplifying the holidays
easy educational ideas for children
writing workshops
… and more!
---
EMAIL NEWSLETTER
I edit and publish, Simple Times, a free email newsletter reaching 27,000+ readers throughout the world. It's one of the longest-running, continously published email newsletters online!
We started sending Simple Times to a small handful of frugal folk in early 1995 … and we've been at it ever since! Amazing. Where did the time go?  I recently set up new online archives for Simple Times.
To subscribe to this on-going piece of Internet history, simply send an email to:
---
NOTE: Be sure to "Like" me on Facebook!  
---
Browse My Books: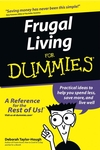 Easy link for Amazon Shoppers