Welcome to my little corner of the World Wide Web.  Feel free to pull up a chair and make yourself at home.
Ages and ages ago, I ran an online discussion forum for frugal living. It was called something like Simple Living Quips and Frugal Tips (this really was a long time ago, so the exact title escapes me now). I honestly can't even remember now why we shut it down … some sort of family crisis or something.
Anyway, before that discussion board was closed down, I grabbed a large number of the helpful and interesting posts and saved them for posterity. I'm now going to start adding those posts to this new blog/webpage.
So, welcome to the sharing of information from one of the very first frugality/simplicity message boards online. Back in "the good old days."
Since that time, I've written six books on various homemaking-related topics. I never even knew I had one book in me … much less six!
For more information about me, go to:  http://afrugalsimplelife.wordpress.com/about/
---
NOTE: Be sure to stop by and "Like" A Frugal Simple Life on Facebook!
---
Browse My Books: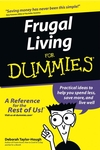 Easy link for Amazon Shoppers