Quick little teaser announcement: I have a couple of new books coming out over the next few months!
Well, actually one of them will be a fresh new edition of an older book that had gone out of print. There'll also be a book on home education for those of you into that sort of thing.  Stay tuned for more announcements as we get closer to the release dates.
In the meantime, have your read my other books yet?  Frugal Living for Dummies® recently came out in Kindle format, by the way (and the Kindle version is 38% off the regular cover price, too!).  You can download a free Kindle app from Amazon to use on your computer if you don't own a Kindle.  :-)
---
Browse My Books: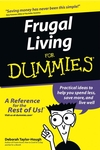 Easy link for Amazon Shoppers
To order your own copy of any of these titles right now, click on the book titles (below).
Books by Deborah Taylor-Hough: